AIM OF NCC
To develop qualities of character, courage, comradeship, discipline, leadership, secular outlook, spirit of adventure and sportsmanship and the ideals of selfless service among the youth to make them useful citizens.
To create a human resource of organized trained and motivated youth to provide leadership in all walks of life including the Armed Forces and be always available for the service of the nation.
NCC Song
Hum Sab Bharatiya Hain, Hum Sab Bharatiya Hain
Apni Manzil Ek Hai
Ha, Ha, Ha, Ek Hai
Ho, Ho, Ho, Ek Hai
Hum Sab Bharatiya Hain
Kashmir Ki Dharti Rani Hai
Sartaj Himalaya Hai
Saadiyon Se Humne Isko Apne Khoon Se Pala Hai
Desh Ki Raksha Ki Khatir Hum Shamshir Utha Lenge
Hum Shamshir Utha Lenge
Bikhre Bikhre Taare Hain Hum Lekin Jhilmil Ek Hai
Ha, Ha, Ha, Ek Hai
Hum Sab Bharatiya Hai.
Mandir Gurudwaare Bhi Hain Yahan.
Girija Ka Hai Ghariyaal Kahin
Mullah ki Kahin Hai Ajaan
Ek Hee Apna Ram Hain, Ek hi Allah Taala Hai
Ek Hee Allah Taala Hain, Raang Birange Deepak Hain Hum
lekin Jagmag Ek Hai, Ha Ha Ha Ek Hai, Ho Ho Ho Ek Hai
Hum Sab Bharatiya Hain, Hum Sab Bharatiya Hain
NCC SYMBOL

THE MOTTO OF NCC
"Unity and Discipline",
NCC FLAG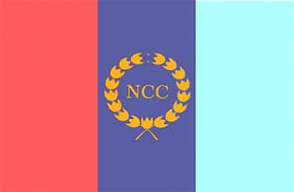 CORE VALUES
The NCC is a responsive, learning and continuously evolving organization. Its activity is guided by certain core values that we endeavour to instill among all ranks of the NCC. These include the following:-
A sense of patriotic commitment to encourage cadets to contribute to national development.
Respect for diversities in religion, language, culture, ethnicity, life style and habitat to instill a sense of National unity and social cohesion.
Abiding commitment to learn and adhere to the norms and values enshrined in the Indian Constitution.
Understanding the value of a just and impartial exercise of authority.
Ability to participate in community development and other social programme.
A healthy life style free of substance abuse and other unhealthy practices.
Sensitivity to the needs of poor and socially disadvantaged fellow citizens.
Inculcating habits of restraint and self-awareness.
Understanding the values of honesty, truthfulness, self-sacrifice, perseverance and hard work.
Respect for knowledge, wisdom and the power of ideas.